24 Oct

I'm wracked with Indecision

Honestly, I normally know what I want…it's not often that I feel really and truly torn.

When I'm looking for something, what usually happens is that I either spot it and know it's meant to be mine, or I source and source until I hit upon just the perfect thing.

When I was working on the downstairs bathroom, for example, I knew from the start what I wanted the finished room to look like…faucets, tile, sink, shower…that was all easy.

Accessories, mirror and art…saw them, and bought them…easy.

Sconces…a bit trickier…I flipped and flopped a little but when I found the IKEA dudes for literally $15 a pop, that made that decision for me.

And in the end, it's come together exactly as I had hoped…
The living room, on the other hand, not going so smoothly.
I loved the way it was before, when I did it.
But like any decorator, I felt like it just wasn't resonating with me all that much anymore.
So…
I made a few purchases, painted the walls…things were good.
BUT…progress has come to a crashing halt because of my indecision over what to do with my channel chairs.
If you recall, my first plan was black embossed leather.
I still like this one but after my painting arrived, I thought some pattern and/or colour had to happen.
I thought about KW faux bois for a while…
…but I just don't think the pattern will translate well over the channel bumps of the chair…would make for brilliant pillows though…too bad I don't need any of those.
Same thoughts about this…
…though it does a real good job of tying colours together.
But is it too much animal with the tiger (see below).
After that, I thought I had decided on burgundy velvet…
…and am actually still leaning towards it…especially after holding it up in front of '
Sway
' and seeing this magic happen…
Trouble is, this colour REALLY freaks me out- I loathe red and black together…like in a mucho large way…I could end up hating this.
What I'd really like is more of an oxblood but I'm having trouble finding it- Schumacher's Bordeaux might be close…
…it appears to have a touch more brown in it so I might order up a sample of this for comparison sake.
Of course, there's a few abstract b/w lovelies that are also occupying some of my brain parts…Pierre Frey Leo would hold title on that front…
…trouble is, I think it might be a bit much with the b/w striped rug, large painting and this stuff (in pillow form.)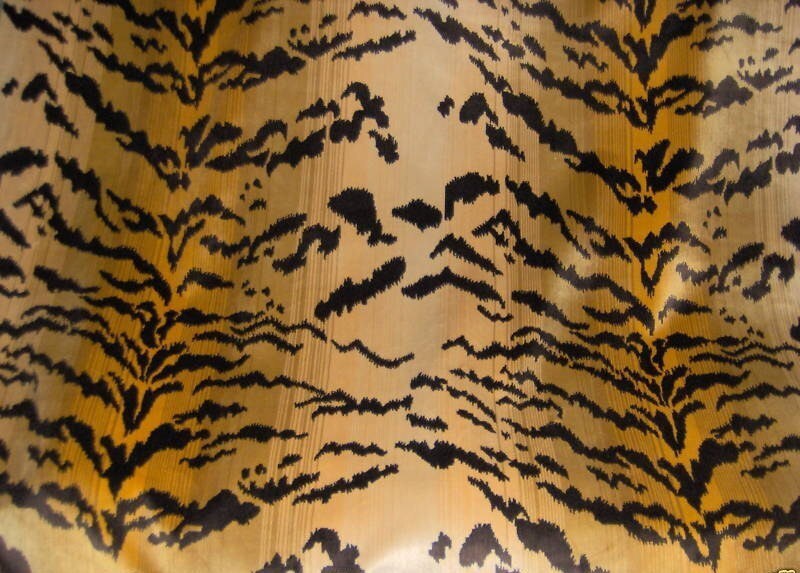 This whole minimalism thing is tough- I find it way easier to max things out…editing is NOT my forte.
My other issue is with what the hell to do over the fireplace.
With such a statement painting on one side of the room, I have to tone down ideas over there…any thoughts?
Seriously, I need help here people.
xo